We first heard about Elko, Nevada from a couple we met on a trail in Zion National Park. While trading travel stories,  they said that the Ruby Mountains outside Elko were spectacular. We were at the beginning of a long road trip and had no particular itinerary, so we kept Elko and the Rubies in the back of our minds.
We spent some time in Nevada on our trip and did visit Elko, twice, in June and October.  Contrary to the popular image of a barren place, whose main inhabitants are gamblers, mobsters, and prostitutes, Nevada is a beautiful state, the mainland's most mountainous, with wide open spaces, glorious endless skies, and friendly ordinary people. The technical term used to describe the landscape is "basin and range"; mountain ranges alternate with deserts, or basins. It is a terrain of extremes—scorching flat scrub land and snow-covered mountains.
Elko is in northeastern Nevada, 230 miles west of Salt Lake City and 290 miles north and east of Reno. It had its birth in 1868 during the building of the First Intercontinental Railroad. Legend has it that a rail superintendent fond of animals added an "o" to Elk to give the town its name. When the track building moved east, Elko remained as a supply depot for the burgeoning ranching and mining industries. These businesses ebbed and flowed, and along with them, the town shrank and grew.
Ranching included cattle and sheep, often in the same enterprise. In both, Basque immigrants were important parts of the labor force. They were cowboys and sheep herders, although they are best known as the latter.  Their skills were legendary, but  the loneliness they experienced in this vast and wild land left some permanently scarred, or as the Basques said, they were "txamisuek jota," or "struck by sagebrush."  We learned that Basque herders made carvings on the trunks of aspen trees (now called arborglyphs, see image), probably to mark their time, maybe to prove that they were alive.  We hope someday to see one.  
Sheep herders were usually poorly paid and treated  little better than serfs, although some eventually accumulatted enough capital to become ranchers themselves.  Others left herding and moved to town, where a few opened merchandise stores, restaurants, bars, and hotels.  Later, in the middle of the twentieth century, Basques herders came to the United States under special guest worker programs, and not only were they exploited but had to return home when their contract period ended.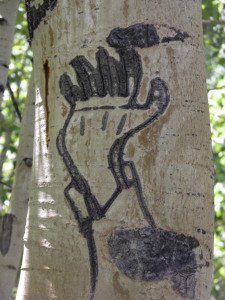 Today, Basques are still an important part of the Elko region. Some businesses are Basque-owned, including the Elko General Merchandise Store,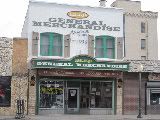 owned by the Anacabe family, where, in the words of nevadaweb.com, you can find "Western and steel-toed boots, blue jeans, hats, cold-weather gear: everything for the well turned out miner, buckaroo, construction worker, outdoorsman." Several popular Basque restaurants serve platters of lamb and side dishes family-style. During the first week in July, Elko hosts the National Basque festival, which celebrates Basque culture with music, food, dancing, and games. There is even a "running of the bulls."
There are many large ranches close to Elko. South of town, through the tiny village of Lamoille (where two men from Ohio, working on a gas pipeline stretching from Wyoming to Oregon, told us they had the best ribeye steak they'd ever eaten, at the Pine Lodge Restaurant),  ranches stretch out for miles along the base of the Ruby Mountains. There is a good dirt road through them, and the views from it are striking.  The ranches looked like the "old west," and we imagined that it would be a great adventure to live on one of them.  We thought that maybe these were "gentleman ranches," perhaps owned by celebrities, but we learned that they were ordinary profit-seeking companies.  Still, we hoped that the owners loved their land.  
Mining has always been big business in the Elko region. Silver, copper, lead, and the main metal—gold. The remarkable increase in the price of gold over the past two years, from a little over $700 to about $1,350 per ounce, has made gold mining very profitable. Nevada produces more than 80 percent of all U.S. gold, 6,000,000 troy ounces in 2007, and is one of the world's largest suppliers of the precious metal. No longer do miners pan or dig for gold or wash down mountain sides with hydraulic cannons to get at the ore. New technology has made it possible to extract microscopic particles of gold from low-grade ore; those who do the work never actually see any gold.  The ore is  treated with cyanide,  in a process that is both dangerous and environmentally damaging:
To make a simple gold wedding band, at least 2.8 tons of earth are excavated. The gold-mining industry generates an enormous amount of waste compared to its product: The 2,402 tons of gold produced in 1997 resulted in 725 million tons of waste, which was contaminated with metals, acids, and solvents, according to Worldwatch lnstitute. The standard ratio of waste production in the U.S. gold-mining industry is one to three million, meaning that for every ton of gold produced there are three million tons of waste rock. Most of the unsightly mess left behind is exposed to weathering and will ultimately leach acid and heavy metals into the local area at great ecological cost.
Gold mining is also terribly wasteful of water. In Nevada more water is used in mining what is essentially a socially useless commodity than is consumed by all of the state's people. In mining areas, the water table has fallen dramatically, by as much as 1,000 feet. One Nevada mine uses 100 million gallons of water each day.
Ranching, mining, construction, and tourism have made Elko one of the state's more prosperous places. Nevada has the nation's highest unemployment rate, 14.4 percent in August 2010, but the Elko area's rate was 7.7 percent. The incidence of poverty is less in Elko than in the state as a whole, and household incomes are relatively high. We spoke with a gold mine employee, and he said that jobs were so plentiful that you had to try hard to be unemployed. The data dispute this, but Elko looks in much better shape than Reno or Las Vegas. There are attractive streets and trim houses. However, the downtown proper is unattractive, a hodge-podge of businesses, which look good only at night when the neon signs of the motels and casinos give off their glow.  The railroad hub that had taken up a significant part of central Elko was torn down, but instead of converting the empty spaces into something  eye-appealing, like a park, the town just made a series of parking lots. One commentator said that people enjoyed the absence of the train whistles and now appreciate the ample parking. But we wondered, parking for what?  There must be a thousand spaces.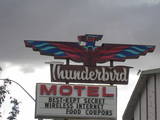 We spent eleven days in Elko, four in June and seven in October, hiking in the Ruby Mountains. We stayed both times at the Thunderbird Motel, where the rates were reasonable, the rooms large and clean, and the neon sign impressive.  The mountains were named by prospectors who thought that the garnets they found were rubies. Glaciers formed many magnificent canyons, and there is fine hiking in glorious settings, including alpine lakes, aspens, limber and white pine, and splendid vistas. The major trail is the Ruby Crest Trail, which starts at Road's End (at the top of the twelve-mile road through Lamoille Canyon) and ends some forty miles away at Harrison Pass .In June, snow from avalanches blocked part of the road, so we parked the car and walked over the snow and the rest of the road.  We took delight in the waterfalls, glaciated canyons, meandering streams, and budding aspen. The trails were too snow-covered for hikes, at least without snowshoes, but in October, we hiked the Ruby Crest Trail twice, up to a saddle overlooking two lakes, shimmering  in the sun.  Duirng the second hike,at 10,000 feet,  it began to sleet hard, a heavy damp fog descended into the valley, the sleet turned to snow, and as we got to lower elevation, it rained. We were soaked by the time we got to the car. We imagined what might have happened if we had been further away or if we hadn't been able to keep walking. Every year, hikers die because they didn't have proper clothing or because they took foolish risks. Luckily we had prepared for bad weather.
In October, we also hiked in two side canyons along the road. The first hike was steep to start but then leveled off into a  higher, more hidden canyon. The aspens were gold and red; there was a stream cascading down the rocks; beaver dams were much in evidence; and the mountains in the distance looked craggy and enticing. It was as if we were the first persons ever to visit here, and it was so beautiful that we wished we could stay forever. On the way back, we met a young woman who was deer hunting. It was the first day of the hunting season, and we were nervous to be hiking among men and women with rifles, but she assured us that only serious people hunted here, not the partying fools who gave them a bad name. An hour later, we spoke to a woman walking her dogs. We asked her if she knew why there were so many tiny, baby aspens. We thought that maybe avalanches kept killing mature trees. She told us that it was the beavers, and that they had transformed the landscape in just the past eight years she had been coming here. After that we noticed beaver damage to aspens everywhere. People had told us that they hated beaver; now we could see why. The only saving grace is that an aspen grove is actually a single organism, with a common root system, so while the beaver chew down the trees, they don't kill the roots, and the aspen keep coming back.
On the second canyon hike, Karen noticed drag marks along the trail.  Soon she saw blood and fur. We saw no animal tracks, so we guessed (and hoped) it was a hunter pulling a deer, but we took out our pepper spray just in case.  We'd be no match for a bear or a mountain lion.  We did eventually overtake a hunter, and on the ground next to him was a dead buck. The hunter was excited and told us about his kill. He had passed this deer up the day before, thinking it too small. But another hunter told him, "Don't pass up a buck now that you'd shoot on the last day of the season."  So our hunter came back and managed to find the deer. He had forgotten rope and had to cut the straps from his pack and attach them to the antlers so that he could pull his catch down the steep, rough trail. We're not hunters and can't imagine shooting an animal. But he seemed so happy that it was difficult to judge him harshly.
Our week in Elko ended before we knew it.  It's a beautiful place and different too.  Where else would the maintenance man in the Laundromat tell Karen that he sometimes found mine blasting caps and rifle shells in the dryers?  We'll be back.