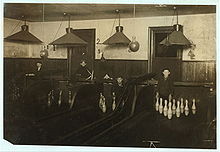 We were in Las Vegas, a cheap stopover on our way to a month or so in southern Utah.  Our hotel, South Point, is on Las Vegas Boulevard but far south of the Strip. It's a good place to stay.  The staff is friendly, and our room, which was larger than our old New York City apartment, cost $49 a night. Probably to make up for its out-of-the-way location, South Point is a self-contained entertainment complex, with a multiplex cinema, shops, equestrian arenas, performance stages, and a large bowling alley.  I was excited to learn that the preliminary rounds of the World Series of Bowling were being held in the bowling center. I spent each night of our stay watching the action.  Most of the best bowlers in the world were competing in a set of competitons, with the top eight eligible for the $50,000 first prize.  The finals will be televised on ESPN in January.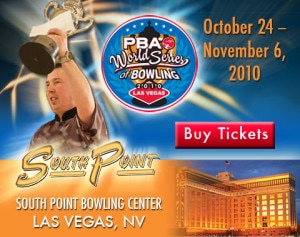 As I stood behind the seats observing the action, I thought about a sport I have loved since I was thirteen.  It was 1959, and my father took me to the Polish Falcon Lanes to bowl.  I was hooked right away, and for the next few years, I spent as much time in bowling alleys as I could: Falcon Lanes, the CU Club (operated by the Slovak Catholic Union), King Lanes, Highland Lanes, and any others I could find.  When I got my own ball and shoes, I got the attendants at the local alleys to keep them behind the counter.  That way, I avoided paying for a locker and didn't have to sneak a heavy ball and shoe bag out of the house every time I wanted to practice.  I'd just tell my parents (who kept a watchful eye on how I spent my time and money) that I was going to a friend's house, and then I'd walk down the steep hillside path into town and go to whichever place I had last left my equipment.  I'd lie to mom and dad about the money I earned delivering newspapers so I could use it to bowl.  On certain days there were special prices—three or four games for a dollar.  You could improve your game on the cheap.  By fifteen, I was averaging about 180, a respectable score back then.  The balls were made of hard rubber; the lanes were constructed of wood, conditioned with oil; the pins were heavy; and these features made high scores and averages difficult to achieve.
It is hard now to convey how much enthusiasm there was for bowling in the blue-collar factory towns and how serious people took it.  League scores and high games were reported in the local newspaper.  My grandfather, who averaged over 190 in the 1920s when such an average was very rare, had a bowling show on the local radio station.  My father claimed to have beaten the great pro Buddy Bomar during an exhibition Bomar gave at the naval base in Corpus Cristi, Texas, where dad was stationed after his Second World War duty in the South Pacific.  I never quite believed this, although my father's highschool yearbook said he could give "even his dad a run for his money" on the lanes (my yearbook noted my bowling skills!).  We talked about the best local bowlers in the same way we discussed baseball stars.  I remember them as if it was yesterday: Jimmy Hrabovsky, Moe Wells, Sky Skukalek, Butch Stapinski, George Saloum and his sisters Eva and Alma, Eli Relich, and, of course, my grandfather, Carl R. Yates, "the old headpin hunter."  My bowling buddies, Bob Beck and Beaver Slanicka, and I knew all their mannerisms and imitated their styles.  I spent hours every week watching their league play, keeping score when someone would let me.  After the league matches, they'd bowl against each other for money, and this was most exciting of all.  A local engineer and mathematician, Emil Sotnyk (who invented a complex, multi-base slide rule), operated a bowling alley above a local bank and in his spare time wrote a book that attempted to teach bowling with mathematical precision.  I read it avidly when grandpa gave me a copy.
The big industrial corporations always sponsored bowling leagues.  Both of the companies in my hometown of Ford City, the Pittsburgh Plate Glass Company (PPG) and Eljer Pottery, had leagues for their employees.  The PPG league had so many teams that it had to reserve both the Falcons and the CU Club every Thursday evening.  The teams were department based, and the rivalries were intense, especially if a worker and a supervisor team played against each other.  When I lived and worked in Johnstown, Pennsylvania, I saw that Bethlehem Steel sponsored many leagues, reflecting the fact that thousands of men and women worked there.  Bowling was even bigger there than in Ford City.  The supervisors or "white hats" had their own league.  Class distinctions were sharper than in my hometown, just as the great barons of steel were grander capitalists than the owners of the glass factories and potteries.
I stopped bowling in my mid-twenties but took it up again a decade later.  Within a year, I was better than ever.  I got my average up to 194, but then wrist and thumb injuries forced me to give up the sport for good.  I bowled my last league games in 1984, a poor performance that cost my team the league championship. 
Bowling was always a sport of the working class.  The early great keglers were usually from the industrial heartlands like St. Louis, Chicago, Milwaukee, Detroit, Ft. Wayne, Cleveland, Buffalo, Brooklyn, Patterson, New Jersey and other such blue-collar outposts. The cost to play was low, and the equipment was inexpensive.  Almost anyone could learn to bowl, and men and women could compete together in "mixed" leagues.  Sadly, like baseball, bowling was segregated.  The main sanctioning body, the American Bowling Congress (ABC, now the United States Bowling Congress), did not allow blacks (and all other nonwhites) to participate in its leagues or tournaments until 1950.  As with baseball, black bowlers formed their own national organization, The National Bowling Association.  Pressure from organized labor, notably the United Auto Workers and the United Steel Workers, civil rights organizations, and sympathetic politicians such as Hubert Humphrey, as well as several lawsuits in state courts, finally got the ABC to change its rules.  There haven't been many professional black bowlers, but I was happy to see at least a dozen black bowlers at the South Point tournament.  Billy Oatman was one bowler I watched, and he was the first African American to win PBA rookie of the year, in 2006-07.  He was also the oldest rookie to win the award, at age forty-one, which tells us something about the difficulties black bowlers have faced.
Bowling's popularity rose dramatically after the Second World War, in part because of the promotion of the sport by the Armed Forces during the war.  In the United States, the number of bowlers in ABC-sanctioned leagues peaked in the mid-1970s.  It has declined significantly since then.  There are probably several reasons for this.  First, the factory towns of my youth are gone and with them the company-sponsored bowling teams.  The same is true for the cities that spawned the great stars and teams of the past.  The big breweries that sponsored the best teams are no longer located in Detroit, Milwaukee, and St. Louis.  Second, bowling is much more expensive now that it was in the 1970s; the price of a game has risen by more than double the increase in the consumer price index. Balls are now high-tech, made of synthetic materials with complex cores, and they cost as much as $300.  Shoes can set you back $200 or more, as can a carrying bag. To be a good bowler, you need at least two and probably more balls, so that you can master the complicated lane oiling patterns that are now an integral part of the game. Bowling gloves and various other paraphernalia add still more expenses.  All in all, not a sport for the working class.
Third, to compensate for declining interest in the sport, many bowling establishments began to apply oil to their lanes in such a way that a moderately skillful bowler could score much higher than ever before.  If you threw the ball in a particular area and could make it rotate appropriately, it was hard not to get a strike.  While this made average bowlers believe they were great ones, it also cheapened the sport and made people think that it was easy to master.  It seemed that everyone was bowling a perfect game (300 score, which means twelve consecutive strikes).  What was the point of mastering a game as easy as tic-tac-toe?
Professional players bowl under entirely different conditions than ordinary league participants.  The Professional Bowlers Association (PBA) dictates that their tournaments utilize varying and difficult conditions, with complicated oil patterns applied to each lane.  On each of the five preliminary rounds at the Las Vegas tournament, there was a different oil pattern.  Some required a right-handed bowler to begin his or her (there were a handful of women in the tournament) delivery at the extreme left side of the approach, almost on the next lane's approach, and throw the ball out toward the far right of the lane, and then making it hook sharply back into the pocket.  If the ball was released too far right it would skid on the oil and not curve back. If the ball was thrown too far left, by even the slightest amount, it would hit the pins right on the nose of the one pin and leave a difficult spare shot.  The bowlers had to make constant adjustments: change their balls, increase or decrease the speed of their shot, put more or less rotation on the ball, adjust the position of their hand on the ball, or lengthen or shorten their approach.  I watched one of the PBA's finest bowlers, Chris Barnes, use a five-step approach on one lane and a three-step delivery on the other alley.  You would have to have bowled for a long time to know how hard this is to do.  Barnes is also a noted trick shot expert, nearly as good as the legendary Andy Veripapa. Some great trick shots by Barnes can be seen on You Tube.
After each game, the contestants moved to a new pair of lanes.  They had to bowl sixty games like this, twelve each day.  I talked to a fan who hailed from Minnesota.  He went to college as an adult, and to make friends he joined a club bowling team.  He got pretty good and told me that he had bowled five perfect games.  But he said that there was no way he could bowl well under the conditions the pros faced every day.  As an example, he told me that radio shock jock Howard Stern, who is a strong advocate for professional bowling, got his engineer Scott "The Engineer" Salem, who carries a phenomenal 218 average in a New Jersey league, invited to the tournament.  He averaged a paltry 179.  Barnes, by contrast, averaged 225.
Reflecting the declining public interest in bowling. ABC canceled the once popular Professional Bowlers Tour show in 1997.  Then, when the PBA was on the ropes, five Microsoft executives bought it and began a life support program.  One of the best things to happen is that professional bowling is now an international sport, and there are contests around the world. I enjoyed watching bowlers from Japan, South Korea, England, Australia, Colombia, Venezuela, Sweden, and Finland.  The top international bowlers in the World Series of Bowling will play against the top U.S. bowlers.  In addition, the highest eight scorers overall in the tournament will bowl for a $50,000 first prize on ESPN in January.  Three of these are from outside the United States.
Tiny Finland had several exceptional bowlers in the World Series.  Maybe the long, dark winters drive people to the bowling alleys.  My favorite was Mika Koivuniemi, a tall and powerful bowler who relishes grueling tournaments like this one.  I was standing next to him before the start of a match, and I told him that I admired his skills. I said that I had commuted to work with a woman from Finland, and I was excited to tell her that a Finn was such a great bowler.  I wished him luck and said that he was the Paavo Nurmi of bowling (Nurmi, a superlative middle and long distance runner, won nine gold and three silver medals in three Olympics in the 1920s) .  This took him aback.  He said, "That's a strong statement."  I said, "Well, you're a helluva bowler." He finished fifth in the tournament.  Barnes was fourth.  I hope they meet in the January televised finals.  I hope the Finn wins!
Note: A good bowling documentary is available on netfix.  Its title is "A League of Ordinary Gentlemen."