We're often on the road, moving from place to place and staying in motels. It is not possible to form close friendships under such circumstances, and even when we settle down somewhere for a few months or a year, it is difficult to make friends. People reasonably think that it is not worth cultivating a relationship with a couple who will be moving soon. And we feel the same. This is the way we have chosen to live, so we are not complaining. Still, however, we enjoy human interactions, so we try to have them in whatever ways we can. We enjoy talking to people in grocery stores, Laundromats, truck stops, and motels. Usually, we just make small talk, but sometimes we take on more weighty matters. A motel desk agent from India tells us how much he misses his family back home. He is going to miss the birth of his first grand child. The owner of a Laundromat confides her aspirations for her son. A grocery clerk with splints on both wrists badmouths the boss. The woman who has been cleaning our room introduces us to her little boy, whom she brings to work because she has no one else to watch him. We buy him a present for his first birthday.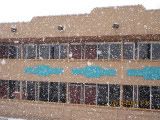 We spend a lot of time hiking. These days we judge a place by how much hiking is nearby. I used to enjoy walking in cities. I wanted more than anything to live in Manhattan, and I couldn't get enough of its street scenes. When we lived there, we would walk miles every day, from our apartment on East 10th Street to Brooklyn Heights, to the Battery, to the north end of Central Park, to Washington Square, to the Farmers' Market in Union Square. East Side, West Side, all around the town. I have been back three times since we left in 2002. I walked, but I kept fixating on the noise and the pollution. Everyone rushing about. It seemed kind of insane. Drifting around, seeing beautiful things, keeping consumption as low as we can, accumulating as little as possible, and especially tramping around the woods, mountains, canyons, valleys, and seashores, these all suit us pretty well.
Most hikers are friendly and happy to be out in nature. Of course, there are exceptions. If you are in, say, Rocky Mountain National Park in July or August, the height of the tourist season, you may run into travelers who are still in full Type A personality work mode. They might walk right past you and never say hello or even acknowledge your existence. Or you might see a couple in which one party doesn't want to be there. This person will be improperly dressed, maybe wearing super-white, thin sneakers, and moping and complaining that the trail is too steep or too wet or too muddy. A sure giveaway is when someone asks you if the hike is worthwhile or how far do we have to go yet. We always look at each other and say, "Looks like a lot of Easterners are on vacation." On the whole, though, beautiful places make people feel good, and they want to share their appreciation, even awe, of such spaces.
Not long ago, we found ourselves again in Moab, Utah. We had just left Boulder, Colorado, this time for good (though we had to return for a court date with our scoundrel of a landlord. I'll save the details for a later date and another rant about that vile species of humanity—landlords.). The weather was awful, with unseasonably cold weather and snow. We'd wait around our motel room hoping that there would be a break in the clouds so we could go for a hike. This particular day, the sun eventually came out, and we drove along Kane Creek Road, which is, for part of its length, alongside the Colorado River. There are several petroglyph sites and hiking trails at pull-offs, and we stopped at the first one, the Moab Rim Trail. This is a multipurpose trail, popular with jeep and ATV enthusiasts, bicyclists, and hikers. The jeep trail is classified 4+, meaning that you had better have the right vehicle and know what you are doing. The trail is steep, but the hiking isn't too hard because you are almost always on the slick rock, which unless it is wet, almost sticks to the soles of your shoes. Behind you and below, there are amazing views of the river, which makes a long flattened S-curve, like the symbol for an integral in calculus. After a mile and a half of uphill climbing, you get to cliffs overlooking Moab and Arches National Park, with the Lasal Mountains as a backdrop.
Soon after we began the hike, we saw an ATV trying to climb a series of rugged rock steps. The driver had to get out of his vehicle and tie it to a tree so that it wouldn't tip over backwards as he maneuvered up the steps. He pushed a button to raise the ATV's body and then yanked, tugged, and pushed it over the rocks. Then he was on his merry way. A few minutes later, we stopped to rest and have a snack. A small dog was chasing after the ATV, and we thought it belonged to the driver. A woman walked by and asked us if we had seen a dog; a couple down the trail had lost theirs. We met her again hiking back to the trail head. She was from Mexico, near Monterrey, and had come to the United States with her parents when she was young. They had settled in the mining town of Price, Utah, where her father had worked in the coal mines. He only got work in non-union pits, so when he retired he had little savings. In poor health, he and his wife returned to Mexico, where they have friends and where it is cheaper to live. They had never learned much English, so they were happy to return to their homeland. Their daughter spoke English very well. She had moved to Moab a dozen years ago, and she now held two jobs, one at the local hospital and another at a Mexican restaurant.
Immigrant-bashing is a staple of right-wing rhetoric in the United States, and it has increased during the current economic meltdown. I wonder what Glenn Beck and all the other haters would say to this woman and her parents. The good Mormons of Utah (Beck, by the way, is a Mormon) were happy to use up the bodies of the parents of our fellow hiker. It didn't matter one bit that they couldn't speak English. And somehow they managed to survive in a hostile and stark environment for many years without benefit of English fluency. Her father reminded me of my great-uncle, Alberto Benigni, who never mastered English but somehow managed to work in the mines from age nine to sixty-five. The children of immigrants always learn the new language. The hypocrisy of the xenophobes is shown when they denounce the teaching of English as a second language in our schools. Sink of swim, they say. Believe me, it will be the nation that sinks if we don't encourage immigration. If the pasty-faced former alcoholic Beck and the dope-addled Rush Limbaugh are characteristic of the native stock, we are in a whole lot of trouble. We need more Mexicans, Indians, Chinese, Russians, you name it. We should take heed of what Karl Marx said, in a different context to be sure, about the English potters. He said that their health would have been still worse—from their wretched employment in potteries—had they not married people from healthier districts. During the final years of my teaching at the University of Pittsburgh campus in Johnstown, Pennsylvania, long after the steelworkers had died, retired, or left the region in despair, and no longer sent their ambitious kids to college, I was never more happy than when I had immigrant students. While the "American" students spent their time drinking and attending fraternity affairs, the foreigners were busy studying.
The dog now came scampering by us, so we decided to try to return it to its masters. I called out, and it came running over. It was a Boston Terrier, with a glossy black and white coat. It reminded me of a dog my uncle and aunt once had, named Bucky, so that's what I called it. I put water in the cup of my hand, and Bucky drank greedily. Boston Terriers aren't made for vigorous uphill running, and the poor dog was spent. We were going to walk back toward our starting point to try to find the owners, hoping that the dog would follow. But given how tired it was, I just picked it up. Bucky took to being held like the spoiled pooch it probably was, and soon Karen, who was behind me, said that it looked like the dog was falling asleep. She got our camera to take a picture of me and Bucky, and as soon as the mutt heard the camera begin to click, she opened her eyes, perked up her ears, and preened as if this were a photo shoot. About ten minutes later, we came upon a jeep engineering its way up the rocks. A woman saw the dog and began to shout, "Thank god. I thought we'd never see Eve again." Eve!! What kind of a name is that for a dog? It turned out to be the dog of the woman's companion, but he seemed oblivious, unconcerned that his beloved dog could have become food for a coyote.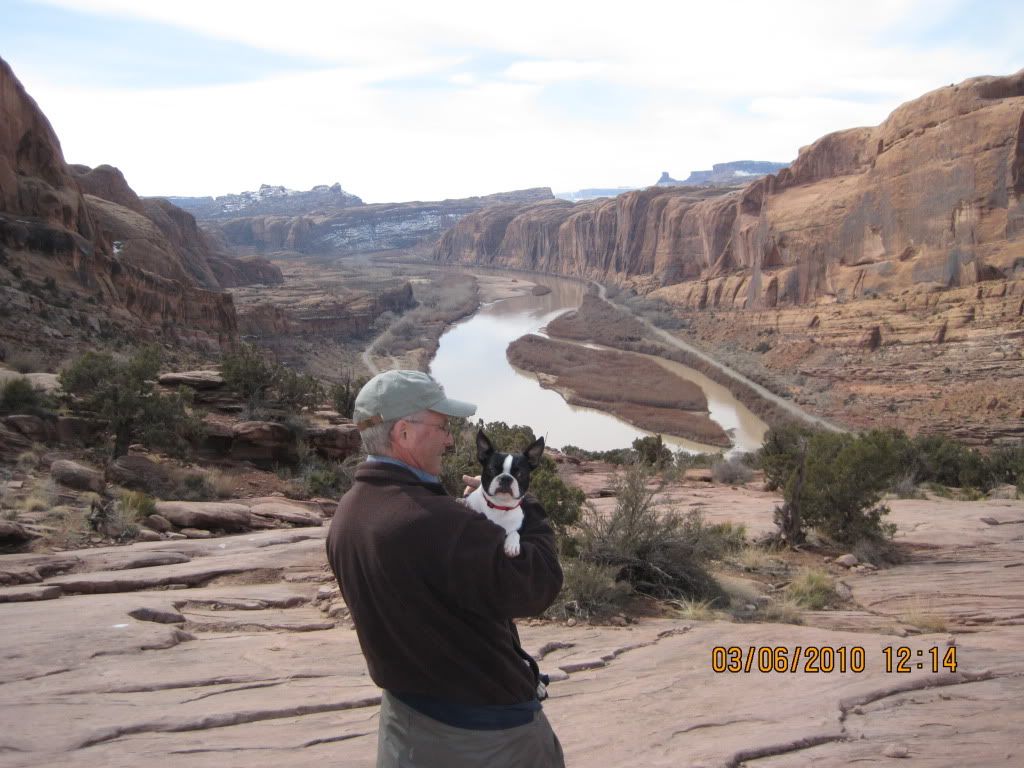 We hiked back up the trail, marveled at the views and continued on behind the cliffs, following the jeep trail over the rocks. Karen smelled animals, so we got out a can of mace, just in case. We trekked for another couple of miles and then returned the way we came. On the way down, we met several other people. It had been a hard winter in the canyon country, and everyone seemed pleased to be warm outdoors. Anyway, each person seemed especially talkative.
An older woman was sitting with her dog. I asked her if it was a Border Collie. She said yes, and when I asked if the dog liked to chase balls, that set her off. People love to talk about their dogs. She said that she was Irish, and when she was in Ireland, she witnessed a Border Collie show, in which the dogs herded sheep to see which dog did it best. There was even betting, though she told us that "The Irish will bet on anything." While we were chatting with her, another, more typical-looking collie approached me. I held my palm out, open and below her mouth, which I read once is an unthreatening way to beckon a dog. She came over, and I rubbed her head. Her owner was a real talker. He started right in on how the breeder from whom he had bought the collie had cheated him, breeding a tall with a short dog, figuring that a middling dog would be the outcome. Unfortunately, his dog had the upper body of the larger parent and the legs of the smaller one, and this caused the poor thing to be prone to broken legs, especially when she jumped out of his Triumph car, The veterinarian had also cheated him when he set the dog's injured leg.
But this paled in comparison to what the "fucking Mormons" who ran Moab had done to him. He realized that the Latter Day Saints were a minority in town, but "they owned everything" and they controlled the government. When he had left his house for a long work trip, "Mormon meth heads" had invaded his home, living there with the full knowledge of the Mormon neighbor to whom he had given a key and who had promised to look after the place. "Fucking Mormons are really stupid," he warned us. The squatters had broken every piece of his good china and wreaked general havoc on the rest of his possessions. When he returned, he couldn't get the police or public officials, naturally "all Mormon," to do anything. Several of these luminaries were, he said, relatives of the home intruders. The police commenced a campaign of reprisal against him, complete with threats, various fines for alleged infractions of the law, and arrests. He had to resort to getting federal authorities involved. The whole time he was telling us his tale of woe, he was verbally abusing Mormons in the coarsest and most vile language, not caring one bit if we or anyone passing by happened to be Mormon. According to him, Mormons were major drug abusers, about the worst in the United States, and they encouraged the Mexicans who ran the meth trade to come to the country, mainly so that the Mormons could convert them. He ended by regaling us with a story of how a crooked Mormon realtor had agreed to sell him three narrow parcels of land for the house he planned to have built. He said that the Mormons had carved Moab's real estate into illegally narrow plots, so that you had to buy several to have a lot wide enough for a decent house. He left town soon after his discussion with the realtor, but he said that they could consummate the deal when he got back. When he returned, the realtor told him that someone had gone and purchased the middle parcel and was asking an exorbitant price. Turned out the buyer was the realtor himself. "Fucking Mormons." We told him that he should write a book. He said with pride that he was. "American Taliban" was the title. If we left our names and address on the windshield of his car at the trail head, he'd send us chapter and verse. We decided against this, though we thought of a bunch of people we don't like and laughed that it would be a good joke to use one of their names instead.