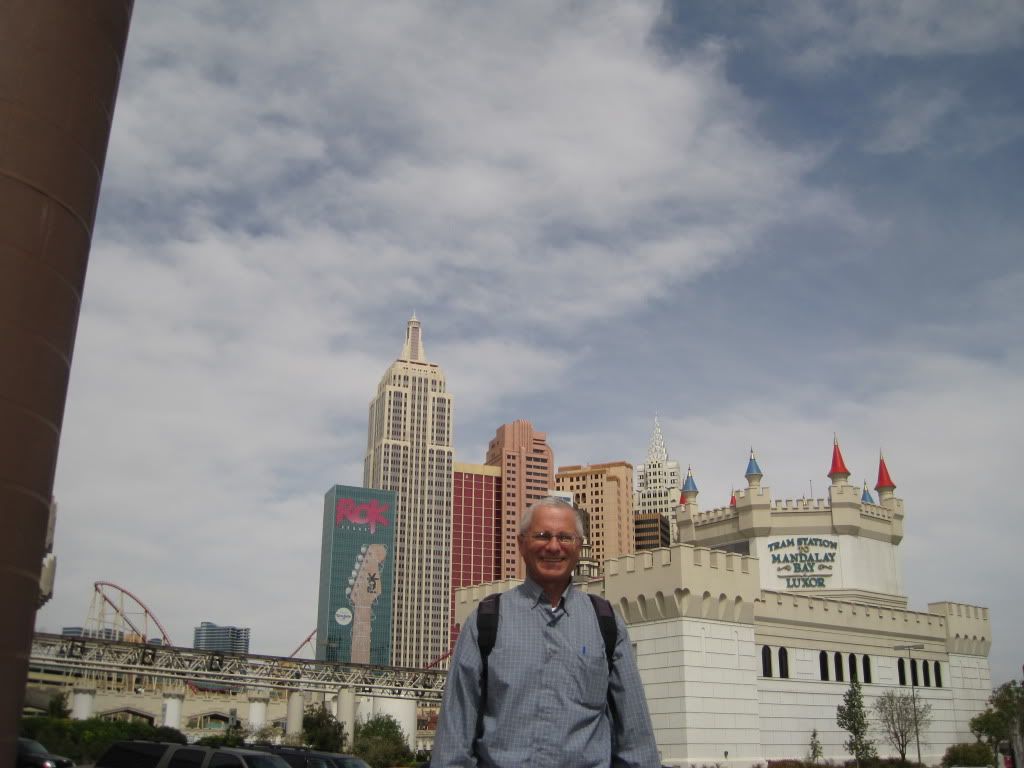 We left Yuma and drove due north on lonely US 95, through desert mountains, and stopped a few miles past the farm-worker town of Blythe to see the Blythe Intaglios (more formally, "geoglyphs"). These are large-scale designs on the land surface created by removing the rocks and pebbles on top of the soil—called "desert pavement"—to reveal the whitish earth underneath. They are estimated to be anywhere from 200 to 2,000 years old. There are many geoglyphs around the world, but these are the most famous in the United States. They were discovered by a pilot in 1931. The largest, a human figure, is 171 feet long. Some Indian groups say that this represents the creator of the Earth. Karen stood on the fence that surrounds this intaglio and took a picture. We love to find and look at ancient rock art, although we learned in an exhibit at the Nevada State Museum in Carson City that some Indians do not like the term "rock art," since, as they point out, there is a very good chance that those who made petroglyphs, pictographs, and geoglyphs had practical and not artistic motivations. The striking nature of many of the images, however, might suggest otherwise.
US 95 parallels the Colorado River north of Blythe, and the river creates the only green you see, close to its banks. Otherwise, the terrain is stark and unforgiving. Every few miles, we saw signs advertising RV "resorts." Given what we saw in Yuma and Quartzite, however, I think the word "resort' should be taken with a grain of salt.
We were on our way to Las Vegas, and we entered Nevada after driving down the long steep road into Needles, California, turning west on Interstate 40 and then north again on 95. Needles is another hot—and not very attractive—spot, with the Colorado River giving the only relief for the summer's extreme heat.. I have a friend who was born in Needles. He never would tell me what he did all day long when he was a boy there. It's not much of a town now, but it had better days when it was the first California stop on Route 66. In the Grapes of Wrath, the Joads travel along the "mother road," and they stop at Needles to admire, and bathe in, the river and wonder about their new life in the land of plenty. Tom Joad's older brother, Noah, who has always been "different," maybe because his father had to help deliver him and had pulled the infant out of Ma Joad's womb roughly, decides to leave the family after bathing in the river. Tom tries to talk him out of it, but Noah says, "'It ain't no use. I was in that there water. An' I ain't a-gonna leave her. I'm a-gonna go now, Tom down the river. I'll catch fish an' stuff, but I can't leave her. I can't." I thought about that in 1977 when I first drove through Needles, on my way to work for Cesar Chavez.
US 95 becomes a four-lane road in Nevada, no doubt because it takes drivers to Las Vegas. Maybe Harry Reid, the leader of the U.S. Senate, had something to do with this. His hometown, Searchlight, is smack up against the highway. It's not really a town, just a miserable beaten down former mining outpost. Reid likes to wax poetic about Searchlight, but I'll bet he's glad he got the hell out of there. We saw a billboard near town that read, "Will Rogers Never Met Harry Reid," a nasty reference to Rogers' famous remark: "I never met a man I didn't like." The right wing crackpots have been after Reid, and the queen of the Tea Party ship of fools, Sarah Palin, recently preached to the faithful at Searchlight. Old, white, born-again types, whose ignorance they are proud to display to anyone who will listen, sat in lawn chairs eating up Palin's words of wisdom. Ain't that America something to see.
I first visited Las Vegas in 1971 with my buddy Ed Ford. We went to high school together, and he was then attending the college where I was teaching. We'd been traveling around the country, and on the way back from California, we took in the Grand Canyon and then decided to drive to Vegas. It was August, and the temperature was 105 degrees. We found a ratty-looking casino and played penny slot machines, enjoying free beers and a 99-cent steak dinner. I didn't go back until 1997, this time with Karen. It was her first trip across country, and I figured that she had to see Las Vegas at least once in her life. It was in the fall and not so hot, but it was dusty and the streets seemed clotted with traffic. We found a free parking space (most of the hotels have free parking lots and garages, which means that an inordinate about of space is taken up for cars. It also means that there is no reason to pay to park) and took a walk on the part of Las Vegas Avenue known as the "Strip." Until the housing bubble burst in 2007, Las Vegas real estate developers engaged in a casino-building frenzy, each new structure more fantastic than the one before. A few months before our visit, New York, New York opened to great fanfare. Here is a good description of this over-the-top casino resort:
New York City skyline. "Its architecture creates an impression of the New York City skyline; the hotel includes several towers configured to resemble New York City towers such as the Empire State Building and the Chrysler Building. In front of the property is a pool representing New York Harbor, with a 150 ft tall (half-scale) replica of the Statue of Liberty, a roller coaster, and replicas of the Brooklyn Bridge, Soldiers and Sailors Monument, the Whitney Museum of American Art, Ellis Island, and Grand Central Terminal, among other well-known structures. Within the resort, particular gambling areas, lounges, restaurants, and meeting rooms are named after New York City neighborhoods or landmarks. The main casino area, for example, is named after Central Park, while the shops are modeled after Greenwich Village.
We were walking alongside the casino when a couple approached us. The man said to the woman, "It doesn't get any better than this." We had met several Europeans in Seattle and San Francisco, and invariably, they wanted to see Las Vegas above anything else. It seemed to represent something especially American to them. In some ways, they were right.
Fast forward to 2010. After much online searching, we found a room in the South Point Hotel, Casino, and Spa, a few miles south of the Strip. The price was $49 per night, and no "resort fee," a scam charge the fancier places foist upon unsuspecting guests. Our room was larger than our New York city apartment, clean and comfortable. The hotel had 2,000 rooms, many restaurants, an equestrian center, a movie complex, and a sixty-four lane bowling alley. And, of course, a gigantic casino, through which we had to take our considerable luggage—bags of food, laptops, personal items, and the hot plate.
South Point had every thing but one—customers. Our floor was eerily empty; we seldom saw another person in the long hall corridors. Nevada's economy has imploded. The Las Vegas area was one of the centers of the housing bubble that burst in mid-2006. At the beginning of 2010, as high as 70 percent of all mortgages in the state were "underwater," that is, the owners owed a larger amount on their mortgages than the market value of their houses. The unemployment rate is over 13 percent, three times higher than in 2006. Poverty and homelessness have been on the rise, and a large number of the city's more than 150,000 hotel and motel rooms are unoccupied. The sharp downturn in the national economy forced consumers to cut their discretionary spending, and a trip to Las Vegas's casinos was a prime type of such spending. It was perfect storm of disaster for a place that depends on a "let the good times roll" state of mind.
During the boom years, about 6,000 people a month were moving to the Las Vegas region, lured by the sunshine, moderately-priced houses, plenty of jobs at decent wages (Las Vegas is the most unionized city in the United States), and tons of hype. Today, there are about 1.8 million people in the Las Vegas metropolitan area, nearly 70 percent of Nevada's population. The influx of people laid the foundation for a construction explosion, with new developments springing up everywhere and all the time. There was plenty of speculative building, sub-prime mortgages, and banking chicanery. As Bruce Feirstein put it in a Vanity Fair blog essay:
Was there any place on earth more swept up in the housing mania than Miami? Was there any place more caught up in the no-money-down, instant-refi, you-can-always-flip-it-for-a-profit-tomorrow, build-it-and-they-will-come frenzy that drove the construction of endless condos, hotels, and new home developments—which now sit empty, abandoned, or teetering on foreclosure? Well … yes. That answer would be Las Vegas. Maybe it was the sunshine, or the culture of hedonism, that both cities share. Toxic loans may have been launched in California and fueled by cheap money and financial chicanery on Wall Street, but Miami and Las Vegas are where the financial weapons of mass destruction exploded, vaporizing dreams and fortunes. The palm trees sway, and the neon still beckons, as mold eats away at empty rooms broiling under the noonday sun.
We walked again along the Strip. While hotels like the Bellagio—with manicured grounds, lake, flower gardens, ornate and lavish chocolate fountain, and pricey shops—still exude opulence, many others, including New York, New York, looked much the worse for wear. The pyramid-shaped Luxor was downright shabby, with construction trucks around the pool. MGM Grand was dark and smelled musty. We were appalled at the jungle motifs, complete with a large glass enclosure in which young lions performed and tourists could pay to go inside and have their pictures taken. An announcer assured us, as we watched the animals chase after what looked like fake rolls of toilet paper, that the lions were given the best care imaginable and were happy. Just like the whale that killed its trainer at Sea World. If you want to learn the truth about the treatment of the animals that entertain us, see the documentary film, The Cove. I'd have loved to see the lions mangle their trainers and then turn on one of the photo-seekers. We noticed here, in every other hotel, and on the streets, that no one seemed happy. The same was true at casinos we visited in Carson City and Reno. Men and women arguing, parents yelling at their kids, panhandlers selling bottled water, hard-looking people, elderly men and women with walkers, hobbling up to the slot machines, sucking on cigarettes while they hit the buttons and hoped for a big hit before they died—it wasn't a pretty picture. Not far from our hotel, an entire shopping complex was vacant. A condominium building advertised a 70 percent price reduction. Some construction projects appeared to have stopped mid-shovel.
On our second day, we drove west out of town to Red Rock Canyon National Conservation Area.  Along about a ten-mile segment of Blue Diamond Road, we counted twenty-five housing developments. Their names belied the dusty, treeless settings and cheap, nearly windowless construction: Highland Ranch, Tiara, Foxborough, Mountain's Edge, Great Falls, Indigo, Positano, Tuscany Hills, and many more. No matter in which direction you look, you see a sea of roofs, even in the hills, where normally you would find posher and more tree-hidden enclaves. The housing debacle has brought scores of for sale signs, foreclosures, and short sales to these dismal developments. We tried to imagine what it would be like coming home from work to one of these places. The man would say to his wife, "Honey, I'm going over to the The Cactus Grill for a drink." He leaves the house and say to himself, "Maybe a car will hit me when I cross the street." Meanwhile, his wife says to herself, "Now's my chance to get out of this insane asylum." In the city proper, we saw a woman walking on a desolate street, buffeted by a strong wind and surrounded by developments, one of which was built right on the edge of a large sand a gravel pit. The Strip beckoned in the distance.
Red Rock Canyon was just the antidote for Las Vegas. It is a beautiful place. On the road just before you get to the Visitors' Center, we saw a sign telling drivers to watch for wild burros. We didn't see any, but a couple of weeks later, we saw twenty-five wild horses on the road from Carson City to Virginia City. There is a tiny town near the Canyon called Blue Diamond, full of trees and trim houses, with a park, a post office, a general store, a school, and a community swimming pool. It was originally a company town, established by the Blue Diamond Gypsum Company. The nearby gypsum mine (gypsum is a multipurpose product and the main component of drywall. Plaster of Paris is gypsum, as is alabaster) is still operating, but the owner is now called Certain Teed-Gypsum, which is itself a part of a multinational conglomerate, Saint-Gobain. This company has subsidiaries in sixty countries, and these produce everything from gypsum to flat glass and plastics. I'll have much more to say about mining in the west in future posts. Here I will just note that every mining town, no matter how nondescript, is connected to the global economy. Blue Diamond is lucky only in that the mine, like all mines an ugly and insidious-looking monstrosity, is not right in town.
We took two hikes in Red Rock Canyon. The first took us past what had been a sandstone quarry, with blocks of stone that had been cut and left there. The trail eventually climbs up a canyon, toward the end of which is an enormous natural water tank and a cliff from which you can see all of Las Vegas. The second hike wound its way through another canyon. We clambered over a field of large boulders and watched rock climbers. The rocks, which must have been washed down the canyon in floods, were the most beautiful we have seen, multicolored and striated in unusual ways. I like to gamble, mostly video poker machines, but that pedestrian and time-wasting activity seemed especially pathetic compared to the pleasure I got from trying to decide which rock was the most enchanting. On the way back, we saw it raining in the distance, the sun and the clouds creating magical shadows on the hills and valleys.
When Spanish-Mexican explorers marched into what is now southeast Nevada, they were thirsty. This is desert country. As they neared the site in which Las Vegas sits today, some of their animals rushed ahead, sensing water. The explorers were happy to see that the area was green, the result of artesian wells. They named the place Las Vegas, which means "The Meadows." A less fitting name is difficult to imagine. As is true everywhere in the west, the "explorers" were hardly the first to come to The Meadows. Native peoples had been there for a long time. And is also true everywhere in the west, the Indians lost the life they had and have spent the ensuing centuries struggling to reclaim whatever part of their culture they could and learning to live and continue to develop that culture in a state of perpetual resistance. As Las Vegas continues to deteriorate economically, the Indians must be thinking that there is something desperately wrong with these people, who could take the beautiful desert and despoil it so thoroughly. They must look at the city and think that the "American Dream" that Las Vegas represented to so many people was really a nightmare. The jobs are gone; the homes are gone; the land is ruined. About all that is left is bewilderment and an inchoate anger. But you can't help but wonder that people should have known better.