We were so entranced by Point Reyes that we returned three weeks later. After our first stay, we reserved a room at the Point Montara Lighthouse hostel, on a cliff overlooking the ocean, twenty-five miles south of San Francisco. Here we had a small private room, but we prepared our meals in the communal kitchen. At night we left our window open and fell asleep to the sound of the surf just a few feet below us. From the hostel we walked across California 1 to the village of Montara and on to a hike on cliffs overlooking the highway and the sea. We also hiked along the cliffs south through Moss Beach to the Fitzgerald Marine Reserve where we watched the harbor seals with their pups. They stick their heads out of the water, looking like periscopes. They swim so gracefully and clamber up onto rocks and shore so clumsily. Unlike elephant seals, which might spend eleven months in the open ocean and land only to mate and nurse their young, harbor seals have to keep their flippers dry and must spend more time out of water.
Lighthouse and grounds at Pt. Montara
From Montera, we went to the hostel at Pigeon Point Lighthouse. We were surprised to see so much farming on fields next to the ocean: artichokes, strawberries, pumpkins, and leeks. We saw farm workers bent over the crops and thought that at least they could see the ocean. At about the midpoint between Montera and Pigeon Point is the town of Half Moon Bay. Settled by Italian and Portuguese farmers and fishermen, it is now aimed at tourists, as is almost every town and small city anywhere near any natural attraction, or for that matter, with anything at all that can be hyped to the gullible. This can't work for every town, just as every country can't prosper by exporting goods and services alone. Half Moon Bay has managed to keep its downtown intact, and this alone makes it worth a visit. We did our laundry there, and we saw something common nearly everywhere in the country. Mexican men doing their laundry. Their wives and children are in Mexico; they are here, working or looking for jobs. On the corner, Mexican men congregated, shooting the breeze, while the white tourists cast wary eyes. In a bakery, an Anglo customer gruffly chastises the brown-skinned cashier for an error that turns out to be his. .Across the highway from the downtown, near the bay is Barbara's Fish Trap. We don't eat out much, but this place was recommended by everyone we asked. The fish and chips were exceptional.
A few miles further south is Pescadero, a farming and fishing community. There is a bakery/grocery store there, Arcangeli Grocery Company, which features Artichoke bread. It is a loaf of freshly baked bread stuffed with artichokes. We bought a loaf still warm and ate it in the car. There is also a busy restaurant called Duartes (pronounced Dwarts) that everyone raves about. One of its specials—artichoke soup!
The Pigeon Point Lighthouse juts out into the Pacific. The ocean here is particularly hazardous for ships, and the lighthouse, when it was built, employed a special lens developed by French physicist Augustin-Jean Fresnel. The lighthouse lens contained 1,008 separate lenses and prisms and weighed 8,000 pounds. An interesting place to visit near Pigeon Point is Ano Nuevo State Natural Reserve, where the Northern Elephant Seals come to breed. We got there after the breeding, and the females and pups were sprawled on the shore, ugly creatures on land but remarkably adroit in the water. They can dive to depths of half a mile, which helps them elude their main predators—killer whales, large sharks, and human beings. California's state parks have jacked up their parking fees to $10, no doubt a reflection of the state's budget crisis. This will certainly make the parks more accessible to the poor. The day we went to At Ano Nuevo, the visitors' center was closed, as were half the trails. Higher prices, less value. Signs of the times.
Pigeon Point Lighthouse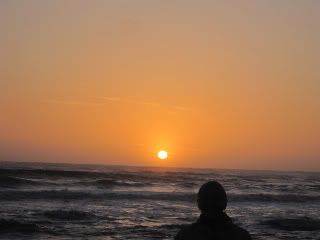 Sunset at Pigeon Point
We met interesting people at Pigeon Point. There were many Europeans on holiday or taking a break after a research visit. Europeans still enjoy legislatively mandated holidays and vacations, and this allows them to travel for lengths of time that only the wealthiest people in the United States can manage. I wonder what will happen as European governments take aim at the social welfare benefits their working classes have won through long collective struggle. Will unions and ordinary citizens fight hard to keep what they have? Or will they cave in to what their class enemies will call "economic necessity?" Greek workers are showing the way. Will the rest of Europe's wage laborers follow suit?
We were not unhappy to leave Pigeon Point. It is an often windy, cold, and rainy place. It is difficult to enjoy a walk along the shore when you are freezing and the wind is blowing you backwards. Our next stop was the hostel in Monterey, which is at the southern edge of town, a stone's throw from one of our favorite communities—Pacific Grove. This community of about 15,000 people was founded by Methodists as a retreat. There are tiny old cottages with the names of the early Methodist retreat goers, many of them women. The first time we visited, we both said that Pacific Grove reminded us of Rehoboth Beach in Delaware, which was also a Methodist retreat. Pacific Grove has an attractive downtown and a fantastic long walking path along the ocean, with large beds of pink flowers on either side. We climbed out onto some rocks to look for starfish in the tide pools and feel the spray as the waves came crashing in.
Monterey still has a pier, and fishing boats are moored nearby. But it is no longer the industrial city John Steinbeck wrote about in Cannery Row. What used to be the working class cannery part of town is now an upscale mall area and an aquarium. The National Steinbeck Center used to be in Monterey, and I was planning to go there. Unfortunately for me, it has moved to Salinas. At least Monterey's waterfront area is now a marine sanctuary. There is a large farmers' market in Monterey, but we liked the smaller one in Pacific Grove better. One vendor not only plied us with samples but gave us a nice official farmers' market grocery bag.
The hostel in Monterey deserves special mention. It is located at the southern edge of Monterey, less than a block from Pacific Grove and a five-minute walk to the ocean. It is a large building that was formerly a union hall. The staff is proficient and friendly. The kitchen is spacious and well-equipped. Best of all, the common room is enormous, with dining tables, comfortable chairs and couches, and an excellent wireless internet connection. You can stay there for less than $30 a night. When we tell people we stayed in hostels, some of them show obvious discomfort.  But they are great places to interact with and observe our fellow human beings. Who shares?  Who doesn't?  Who wants to talk?  Who prefers to be alone? Who asks you questions? Who talks only about himself or herself?  Who might be ready for the communal future we hope for?  Who is stuck in the "I?"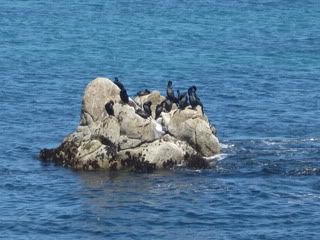 birds at Pacific Grove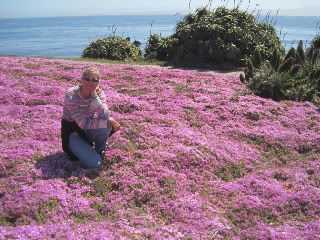 Flowers at Pacific Grove