If you have never driven the Big Sur Highway, which is the most famous part of California 1, you should to do it someday. Just east of Carmel, where Clint Eastwood was once mayor, you begin a twisting, turning, hair-raising ride above the Pacific Ocean. On a clear day, the views from the plentiful pullouts are awe-inspiring. And on the east side of the road there are steep and nearly roadless hills and mountains that are themselves beautiful. The Bixby Creek Bridge , about thirteen miles south of Carmel, is one of the most photographed bridges in the world. You wonder how such a road could have been built (it was built in part by convict labor and funded in part by New Deal money) and how it can be maintained in the face of harsh winter storms that erode and destroy parts of it every year.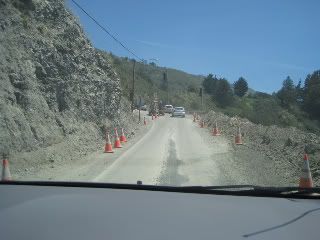 Repairs on Big Sur Highway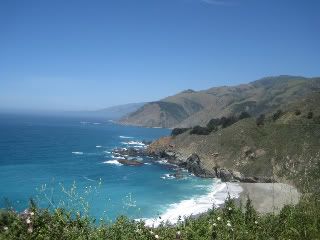 View from Big Sur Highway
There are state parks in Big Sur , but most of the land is private property. We passed the El Sur Ranch, which goes on for miles. It comprises more than 7,000 acres on both sides of the highway. It was originally owned by Mexican land grantees who used it as a cattle ranch. Later when Anglos gained ownership, it was made into a dairy farm. The Hill family owns it today and runs it as a ranch, though it claims that it is protecting the land for future generations to enjoy. On the El Sur Ranch website, we read this:
El Sur Ranch, a family owned and historic California coastal ranching operation, has since its inception, recognized its responsibility to the spectacular coastline that defines its western most boundary. El Sur Ranch's commitment to the preservation and protection of coastal ranching and its environs has also included its role as neighbor to those within the greater Big Sur community. Examples of the Ranch's commitment have been and continue to include the Ranch's leadership and participation in numerous community projects such as: implementation of tree re-planting and erosion-control programs, the removal of non-native, invasive plant species, as well as involvement in a variety of scientific environmental studies that have substantially improved our understanding of this diverse and spectacular environmental resource.
Perhaps. But the Hill family could give the land to the public, so that it could be used by everyone as a park. So far the Hills have managed to donate just fifteen acres to the state, now part of Andew Molera State Park. The sign in the photo below will give readers an idea both of the beauty of the place and the true spirit of the owners. We talked to a young woman in Cambria who was biking the highway to Los Angeles where she was going to do outdoor training for high school students going to Yosemite National Park. She tried to find a spot to camp for free in Big Sur one night. She said that every space flat enough for a tent was private property.
El Sur Ranch Sign
We came upon the Henry Miller Memorial Library and pulled in. It is in a pretty wooded area, and we both said that the buildings and grounds had a good vibe. Miller lived in Big Sur, and its unique beauty attracted other writers and artists, including Robinson Jeffers, Richard Brautigan, Hunter Thompson, and Lawrence Ferlinghetti. There is a small outdoor stage, and many famous musicians have played there, often as part of fundraisers for the library.
Eventually the mountains morph into hills and the road drops in elevation as the cliffs get lower.  Maybe your heart stops beating so fast. But nothing is ever unappealing to the eye.
Our last coastal hostel was in Cambria, a small town reliant on the Hearst Castle tourist trade. The word "Cambria" is Latin for Wales, and some people say that the town was given its name by a person from Cambria County in Pennsylvania. I lived in Cambria County for nineteen years and taught there for thirty-two. There were Welsh coal miners near Johnstown. Maybe one of them or a descendant found his way to the California coast. Cambria is a popular getaway for Californians, not just for Hearst's monument to excess but for the lovely beaches. Moonstone Beach is just west of town. It is a good place to walk and collect the smooth stones–that feel like they had been tumbled–that give the beach its name. There is a boardwalk on the hills overlooking the ocean, and it takes you to other beaches along which you can extend your walk for a long while. There is also a good beach at San Simeon. People swim and kayak there, and a trail leads through woods and above the water to cozy and scenic overlooks. There is also a pier, and it is fun to walk out to the end and watch the waves and seabirds. The town itself isn't much, and the visitors and residents seemed a little long in the tooth. Too many cute shops for our tastes. The farmers' market was good, however, with plenty of reasonably priced organic produce. Santa Rosa church and cemetery are close to the hostel and worth a short visit. The headstones show that Italians settled here, as well as Portuguese and Hispanics. Before it became a tourist town, Cambria relied on the mining of cinnabar (mercury), ranching, fishing, and whaling.
We asked the owner of a small bakery about visiting Hearst Castle. The house and grounds were made into a state park in 1958, and throngs of visitors have been coming ever since. She said that it was a little pricey to do the short tour, but if we wanted to learn about Hearst and "La Cuesta Encantada" (The Enchanted Hill), we should visit the museum at the Visitors' Center. "It's free," she said, and "you can decide if you want to visit the castle after you see the museum." This was good advice. The museum is interesting. There is nothing negative about the father of "yellow journalism" and the progenitor of Fox News, but the exhibits give you an idea of Hearst's monomaniacal obsessions and fantastic wealth. Hearst inherited the 250,000 acres, with fourteen miles of shoreline, from his mother, and the property had been in his family since the 1860s. There are several large houses on the grounds; the largest one, the castle proper, contains 60,645 square feet of space. Besides the museum, the Visitors' Center contains every imaginable type of Hearst memorabilia, as well as ample food venues, including a shop at which you can purchase beef from the Hearst ranch. Environmentally sound ranching practices, of course. We couldn't bring ourselves to buy a ticket and take the five-mile bus ride up the steep and winding hills to see the house. We were sure both the ride and the vulgar displays of wealth would make us sick.
Hearst Castle
We stayed in Cambria not only because the hostel was cheap, and this allowed us to prolong our stay on the California coast. We also were paying homage to a man we knew in Tucson who recently died. Val Robbins and his wife Mae owned a bed and breakfast on a large property just east of Tucson, close to both the Catalina and Rincon mountains. They had been proprietors of a resort in the Poconos and had come west about thirty years ago. Val was a gentle man with wide-ranging talents. He was an artist, a sculptor, a wood carver, a furniture designer, a creator of home furnishings (including the first patterned designs for mass-produced bed linens), a photographer, an expert on rare books, coins, and stamps, and an all-round craftsman. He could build a house and had constructed the large adobe studio in which we stayed for several months. He could do electrical work, plumbing, carpentry, you name it. He was a friend of all the old-time cowboy actors. His son, Christopher, also a skilled artist, said to us one day, "He's like Leonardo DaVinci!" Val knew all about the local plants and animals. Once during our stay, he found two beautiful blue-bellied lizards in the swimming pool. He brought them down to show us, sad that they were dead. Later he came back, excited. He had put the lizards on his porch, and they had come back to life. Apparently they had only been in a state of suspended animation. It was inspiring and moving to see an elderly man so happy that two lizards were still alive.
Val told us that when he and Mae were looking for a place to settle in the west, they had explored nearly every inch of California. The one place they liked best was Cambria. Although they decided to live in Tucson, Val still spoke fondly of Cambria. We went there to see if we could tell why he liked it so much. We guessed that it was the hills. Beautiful green hills, upheaved, enfolded, and canyoned, looking over the great Pacific Ocean. They are like nothing we have seen. As we left Cambria and headed east toward Paso Robles, we stopped near the top of the hills and looked back and saw the sea. Below us was a ranch. We thought of Val. Rest in peace, good man.
Hills Near Cambria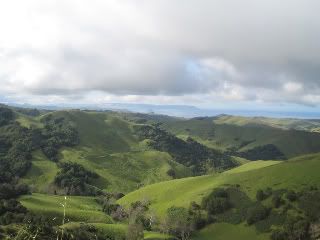 Hill Near Cambria