We're in our sixth month on the road. After a stay back in Boulder, Colorado to take care of  personal matters, we traveled through Wyoming, Montana, and Washington, on our way to Portland, Oregon, where we lived for fifteen months in 2003 and 2004. We stopped first in Casper and Buffalo, Wyoming, neither of which will likely make you want to visit again. We did take a good hike on Casper Mountain, and we met some friendly Mormons having a breakfast cookout. Like so many small cities, Casper has allowed its downtown to be hollowed out, while the developments and strip malls outside town have grown rapidly.  Our hotel was five miles from town, close to a burgeoning healthcare center.  As the United States gets older and less healthy, medical entrepreneurs have seen investment opportunities in such places.  Motel and hotel capital always follows; recovering patients and visitors will need places to stay.
There are some interesting public sculptures in Buffalo, and there is a classic Old West hotel, the Occidental, where such notables as Calamity Jane, Butch Cassidy, the Sundance Kid, Buffalo Bill, and President Hoover once stayed. Owen Wister might have written part of his classic western novel The Virginian while staying at the Occidental. A tall thin man with long flowing hair, who looked a bit like Buffalo Bill, was helping guests with their parking and luggage. He reminded us of the worn-out characters who earn a hard living putting on Wild West "shoot-outs" every summer evening in tourist towns like Cody and Jackson, Wyoming. But then he struck up a conversation with a young Englishwoman. He asked her where she was from, and when she said "Oxford," he said that he had been there. They then talked about their favorite places in Europe. It turned out that our Buffalo Bill was from New York, spent winters in Arizona, and came to Buffalo for the summer season. Don't judge a book by its cover, as they say.
One of the high points of the past three weeks was the drive through the Bighorn Mountains on U.S. 14A to visit the Medicine Wheel, the strange arrangement of rocks built by Indians centuries ago. The mountain meadows,  more pronounced in the Bighorns than in any other mountains we have seen, were flush with wildfowers,
 and the views from the Medicine Wheel (reached by dirt road and mile and a half hike) were magnificent. A ranger told us that Indians come every day to meditate and pray, sometimes preparing for a year for their pilgrimage. After Medicine Wheel, 14A traverses a series of steep switchbacks down the mountain, at the bottom of which is arid and ranch lands. We drove north to Billings, Montana, the state's largest town. Billings isn't very pretty, though the rim rock around it provides a fine backdrop for summer lightning storms and hot air balloons.
From Billings we pushed on nearly four hundred miles to Missoula, a livable small city of about 60,000 persons, an intact and used downtown, and the University of Montana. We stayed at the Holiday Inn, which we got on priceline.com for $50, less than one-third the standard room rate. The phone message light went on at 5:00 AM, throwing us into a panic. We had to go through a complex set of steps to retrieve the message, which turned out to be one left for another guest some days earlier. We complained to the manager, who graciously offered us a complimentary dinner at the hotel's restaurant. We seldom eat out, so we thought that this might be a treat. We were wrong. The food was execrable. People were lapping it up, however, proof once again of the U.S. addiction to restaurant food, no matter how awful. It's interesting that there are food shows galore on television and home buyers always want enormous kitchens and high-tech food preparation equipment. Yet few people regularly cook at home, and the diets of all too many of us are nothing short of suicidal. I think we'll stick to simple fare cooked on our hot plate!
We decided to visit Mt. Rainier, one of our favorite places. Since this is about fourteen hours from Missoula, we stayed one night in Spokane. Eastern Washington is dry and desert-like, but there are plenty of trees in Spokane, a great park near the Spokane River, and a series of waterfalls on the river itself. Downtown Spokane features many lovely old buildings, including a remarkable art-deco parking garage (see photo)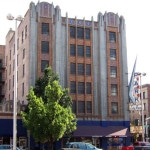 and the Paulsen Buildings, built by mining mogul August Paulsen (see photo).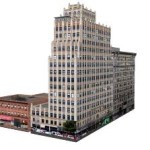 There is a good bookstore, Aunties, where I spoke on the Cheap Motels book tour (A young man in the audience accused me of hypocrisy because I was talking about simplifying our lives while wearing expensive clothing—my one sports coat and decent pair of pants. But maybe he had a point). We stayed at the Doubletree Hotel, which we got on priceline.com for $52. However, our bargain room didn't include an outrageous $16 parking charge.
The drive from Spokane to Mt. Rainier is more interesting than the one from Missoula to Spokane. It passes through ranch and farm land, mostly irrigated, and then climbs upward toward Yakima, where you get your first views of regal and glorious Mt. Rainier, one of the many volcanic mountains that comprise the "ring of fire." Yakima itself is in a fruit-growing region; it isn't much of a town. I spoke there, at Inklings Books, on the book tour. The staff at the bookstore was friendly, and the discussion after my talk was lively. It is remarkable that Yakima supports an independent bookstore. You might not guess that it did after a drive through town.
Our base for two trips to Mt. Rainier was the nondescript town of Packwood. Of all the places we have been from which you can visit a national park, Packwood is the most uninviting: a couple of streets, one poorly stocked IGA grocery store, a few rundown motels, not even a Laundromat. We stayed at the Crest Trail Lodge. We had rented a room there for a few nights six years before and had had a good experience. The owner and her kids kept the place spotless, and she gave us a fair rate. She sold the motel three years ago, and the new owner "redid" the rooms, cluttering them with unnecessarily large furniture. The prices went up considerably; the room rate was the highest we paid during our entire road trip. I asked the manager for some basic information about Mt. Rainier, and he told me that he hadn't been to the park since he was a child! There is a breakfast provided that includes waffles and sausages, and this makes the Crest Trail Lodge appealing to those who can eat this kind of food.  Not us.  We had hikes to take!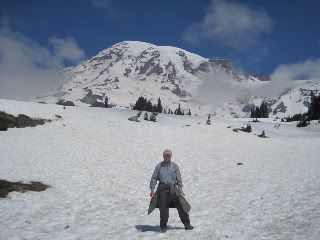 To be continued . . .