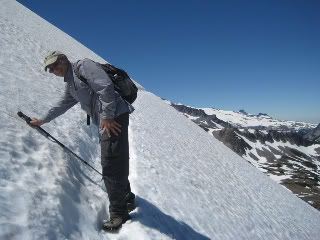 We hiked in the Paradise and Sunrise sections of Mt. Rainier. The former is where the historic lodge is located, one often featured on the Travel Channel. Karen noted a long line waiting for the dining room to open for lunch. If Americans spent as much time hiking in the national parks as they do eating, the nation's health statistics would improve dramatically. While Karen waited in the lodge for the cloud cover to break, I walked over to the new Visitors' Center. This large building seemed to us to be a waste of money. A large part of it is another eatery, serving cheaper food than the lodge. Dozens of people were feeding at the trough, before  they took their pictures or went home. The Skyline Trail, along which in a previous July we had seen wildflowers in such abundance that you could smell them, was snow-covered. This made the going tough, and we decided not to make the entire hike for fear that we would get lost in the snow and encroaching fog. The views of the mountain from the trail were marvelous. We rested on some rocks and watched hikers make their way toward the summit. Some of those descending from the peak used skis to hasten the long climb down.
At Sunrise, we climbed the Burroughs Trail, which was mostly clear of snow except for a long narrow path along the side of Burroughs Mountain. At the top, great views of Mt. Rainier await you, and in good weather you can see a steady stream of trekkers heading for the top along the Inter Glacier, on which there is also a base camp. We saw a large herd of mountain goats eating in the distance. Once on a hike in Glacier National Park, we had to lean up against a cliff wall while a family of goats passed us on a narrow trail.
We had decided that we needed a break from travel and would look for a one- or two-month furnished rental in Portland. Portland hotels are expensive, so we booked two spaces in the hostel in the Northwest section of the city. This proved to be a very mixed blessing. The "you're on your own, so do what you want" attitude so common in Portland and which gives it what I think is an undeserved reputation for tolerance and progressivism was evident at the hostel. "Here's your room, your sheets, and keys. Now make the best of it." We got what turned out to be the slob/alcoholic dorm, with accompanying bad odors. Cleanliness was not a high hostel priority. The hostel itself lacked adequate common rooms; there was not a single comfortable place to sit, making difficult the interesting conversations with strangers we found so delightful in other hostels. A local bakery did provide good bread and pastries (though the drinkers seemed to have gotten most of these late on the night they were delivered), and a pizza shop gave us free pizza each night. Few of those staying at the hostel seemed to be travelers like us. Most appeared to be attending conferences and classes of one kind or another.
We began searching for an apartment immediately, knowing that an extended hostel stay would be intolerable. Our source for rentals was craigslist. This site must be used with caution. There are more than a few crackpots and scam artists who post there. The photographs that accompany craigslist ads are frequently fake and, when not, give a distorted view of the interior and exterior spaces.
Since we left Portland in 2004, there has been a boom in the building of condominium towers and the conversion of warehouse buildings into apartments, especially along the (Willamette) riverfront and in the Pearl and Northwest districts. "Second-homers" and other owners often try to rent these new homes during parts of the year, offering "luxuriously furnished and appointed" apartments for exorbitant rents. Even good furniture adds little to the monthly cost of an apartment ($10,000 worth of furniture that lasts ten years adds $1,000 per year or $83.33 per month), but landlords act as if an apartment that would rent for, say, $1,500 per month unfurnished is worth several hundred dollars a month more if it furnished. This is especially egregious when, as is usually the case, the furnishings are not the ones the owners used when they occupied the apartment but cheap replacements.
We saw an ad for an apartment in a desirable part of town and at a price we were willing to pay. The ad was placed by a realty company, which meant that we would deal with a professional who would not only write a comprehensive lease but would also deal with any problems that might occur should we rent the apartment. We called the agent and set up a visit to see the apartment the next afternoon. We met the realtor, a young man of about twenty-five, and took the elevator to the fifth-floor flat. A woman answered and we entered. She said to Karen,"You look so familiar. Have I seen you in Portland" Karen said, "Well, we've only been here since yesterday." Then Karen, "You look like ______." The woman said, "I am _____." Then I looked more carefully at her. She had been married to a man with whom I had worked for many years. I had been to their wedding! We sat down and chatted, ignoring the poor agent.
We decided to take our friend's apartment. We couldn't  move in right away, so we decided to re-explore the city for a couple of days and then head west to the Oregon coast. We soon discovered that many things had changed. We have had to stop ourselves from describing places we have been—but not recently—to people we meet. If you haven't been somewhere in several years, you ought to avoid talking as if you are intimately familiar with it. We have listened to someone speak glowingly a town or a a national park, whetting our appetite to visit it, only to learn that he or she hasn't been there for twenty years. Marx said that in capitalism, "All that is solid melts into air." For example, we used to tell people that the highway connecting the Oregon coastal village of Florence with the university town of Eugene made for an attractive drive. A particularly nice stretch of the road was where trees made a canopy over it. However, when we were on Oregon 126 a couple of months ago, we realized that we hadn't been on it in many years. Today the canopy is gone, and the woods on both sides of the road have been heavily logged, with patches of clear-cut forest in plain view.
In Portland, restaurants, stores, a Laundromat, and a car wash that we had used were gone. New establishments had opened, and as noted above, high-rise apartment complexes have gone up in large numbers, and an entirely new development was constructed along the Willamette. There didn't appear to be as many homeless as were there six years ago, especially young kids. Maybe they are in other parts of the city, or perhaps they were on different streets than the ones on which we walked.
Many familiar sites were still in place. Powell's Books, the largest independent new and used bookstore in the United States, hasn't moved, nor has Pioneer Square. The Saturday Farmers' Market remains on the Park Blocks by Portland State University, and Carlo was selling the hot sausage sandwiches I bought every week. We noticed one thing in particular that hadn't changed. Portland is still a white city. The absence of people of color is startling for a city this large. It ranks fifth in whiteness among the forty largest all major metropolitan; its city center ranks number one. Blacks comprise a mere 3 percent of the population. Portland and the entire state of Oregon were begun as exclusively white areas, with laws to maintain racial homogeneity. Racial purity has changed at a snail's pace. I read once but can't now remember where that one writer called Portland the "last bastion of Caucasian culture." This seems to still be true.
Portland has many good features. It is a walkable and bikeable city, and it has decent public transportation. You can live there without a car. Flowers bloom and the trees keep their leaves for most of the year. There are many groceries that sell local and organic food. The music and arts scenes are vibrant. There is a university and a number of small liberal arts colleges. People live throughout the city, and there is a "green belt" around it, with abundant trails for hiking and walking. The Rose Garden is a flower-lover's dream.
But it's too bad Portland is so damn white.