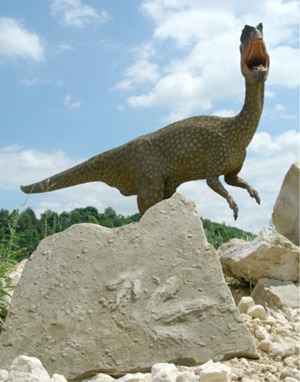 I have written about Moab, Utah many times. The natural beauty of the region around the town astounds the senses: two national parks (Arches and Canyonlands), innumerable canyons, the La Sal Mountains, petroglyphs, pictographs, and the Colorado River. A paradise for hikers, rock climbers, rafters, bicyclists, and rock art lovers.
Unfortunately, commercial interests, always on the lookout for new ways to exploit nature, have done their best to convert this region to a paradise for profits. From uranium mining to jeep safaris, money-making enterprises have wreaked havoc on the land, air, and water.
Two years ago, Polish paleontologist and entrepreneur Gerard Gierliński purchased more than forty acres of land nine miles north of Moab, at the junction of U.S. Highway 191 and State Highway 313 (the road that leads to the Island in the Sky section of Canyonlands National Park). He proposed to local officials something that struck us as particularly insane: a Moab Giants Dinosaur Park. Through a Polish organization called the Delta Association, many dinosaur theme parks have been built in Poland and Eastern Europe, and there are some in the United States as well. They are promoted on scientific grounds; the Moab venture was initially hyped as "an open air dinosaur tracks museum," "devoted to science and research." The reality is somewhat different.
Grand County Planning and Zoning Commission members were initially skeptical of the proposal, pointing out potential problems such as landscaping and land maintenance, parking lot size, depletion of local springs, sewage, and the size of the reclamation bond (to pay for the reclamation of the land if the project was abandoned). Unfortunately, questions about the need for such a park and the potential despoliation of a scenic and sensitive area, already awash in environmentally destructive commercial activities, don't seem to have been raised. Instead the desire for more tourist dollars was taken for granted.
Since that first meeting, skepticism has given way to enthusiastic endorsement and ultimate approval. And more details about the proposed park have been made public. In a Moab Times-Independent article published this past January, titled "Plans for proposed 'Moab Giants' dinosaur park move closer to reality," we learn that the Moab Giants Dinosaur Park "will include life-size dinosaur displays located along outdoor walking trails, an indoor museum and research facilities for scientists." Then, just in case anyone thought that the walkways and dinosaur displays were for the contemplation of those scientists, the reporter tells readers that "The main buildings at the facility will be used for an indoor museum, retail sales and concessions, including a 76-seat café area, exhibit storage, and offices for visiting scientists and park operations. There will also be a 50-seat theater where patrons can learn about the history of the land in the area." In other words, this is a theme park. I wouldn't be surprised if amusement rides, zip lines, and other attractions will eventually be part of the mix.
We first learned of the dinosaur park from a member of the Moab Planning Commission that approved it. He took us and a neighbor on an amazing hike in Arches National Park. The neighbor asked him what he was thinking, giving the OK to this ridiculous enterprise. As she peppered him with questions, he got defensive and had to resort to justifying it by saying that property owners should be able to do what they want with their land. This begs the question of why the owners had to get official blessing in the first place and why public resources, such as engineering feasibility studies, have already been allocated for a private initiative.
This project reeks of human stupidity. A Moab Giants Dinosaur Park is going to be constructed where dinosaurs actually lived and where there are ample noncommercial venues readily available for their study. In would be as if an Arches Giants Park were built here, with model arches, when hundreds of real arches could be seen nearby.
There are numerous dinosaur tracks to be seen near Moab, some in Arches National Park. These are easily accessible by car and on foot. What is more, Moab is on the 512 mile Dinosaur Diamond Scenic Byway, along which you can learn all there is to know about dinosaurs, see dinosaur tracks, bones, and skeletons, and watch archeologists at work. Along the Byway north of Moab, thirty miles south of Price (and about 120 miles from Moab), there is the Cleveland-Lloyd Dinosaur Quarry, which
contains the densest concentration of Jurassic dinosaur fossils ever found. Well over 15,000 bones have been excavated from this Jurassic 'predator trap' and there are many thousands more awaiting excavation and study. It was designated a National Natural Landmark in October 1965.
The fine College of Eastern Utah Prehistoric Museum is a treasure trove of displays of and information about dinosaurs. The museum's website informs us that
One thing that makes our museum so unique is that our items on display were actually discovered within a stone's throw of the actual museum location! Dinosaurs and other finds from this region are world-famous, but only here can you see them surrounded by their original context. The other unique aspect is that we actually travel into the field and discover the dinosaurs, collect them from the field, prep them in our bone lab, and put them on display!
Northeast of Price, near Vernal Utah, Dinosaur National Monument straddles the Utah-Colorado border and contains a dinosaur quarry, A Quarry Visitor's Center, and a Quarry Exhibit Hall.
In return for this corporate boondoggle, which will serve mainly to line the pockets of its owners and the company that builds the model beasts, we will get a blot on a beautiful landscape. Travelers driving for the first time south into Moab from Interstate 70 will just be beginning to marvel at the red rock cliffs when they will see the visages of giant model dinosaurs. Planners promise that these blights will be hidden by well-placed native trees and other flora. Cottonwood trees get pretty big, but some sort of giant, fast-growing mutants will have to be planted to cover these monstrosities.
When the public tires of triceratops and tyrannosaurus, and the park is abandoned, future travelers will look at the peeling monsters and abandoned buildings and parking lots and wonder why they were built.
We hope that this awful blot on the desert and canyon landscape never sees the light of day, though we fear that it will. If it does, we'll all get to see one more sad example of, in the words of Karl Marx, "the most violent, mean and malignant passions of the human breast, the Furies of private interest."