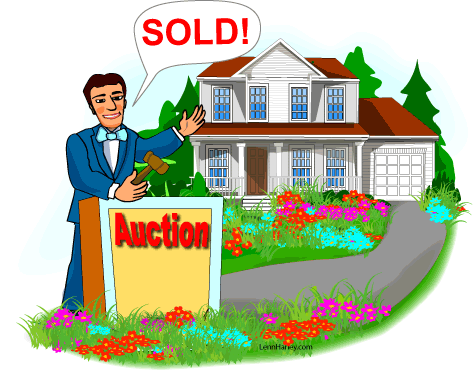 Five weeks after my mother died, we had an auction to sell her worldly goods. I wanted to give everything away, but my attorney said that, as executor, I had a legal obligation to my brothers and sisters to try to put as much money into the estate's bank account as possible. We gave her clothing to the local St. Vincent de Paul thrift store, but to appease my contentious siblings, we decided to call an auctioneer and see if it would be worth it to sell everything else. He and his wife came to the house one evening, and, after they surveyed my mother's belongings and concluded that a sale would yield a net gain, we agreed to use their services. My brothers and sisters were hounding me to agree to put the house up for sale immediately; one of my brothers said that it was time to give the rug a good shaking out and move on. They even badgered us, without success, to pay rent and utilities while we were tying up my mother's affairs. So when the auctioneers promised to empty the house completely, allowing Karen and me to leave, this sealed the deal.
My mother lived in her home for sixty-two years, and when she was killed by a mail truck at age eighty-seven, she left the house full of things. The maple kitchen table, stove, refrigerator, the sharp-edged metal cabinet you bumped into every time you entered from the narrow hallway, itself cluttered with hamper, wooden stand, hall tree, screen, and wall telephone. The dated, heavy dining room table, china cupboard, sideboard, and chairs, with an old padded rocker in the corner. In the living room more chairs, couch, mirror, book case, television, TV stand, coffee table, knick knacks on a wall shelf. There was a mahogany bedroom set my parents purchased when they bought the house: two dressers, night stand, mirrored dressing table, kidney desk, more chairs. Two small bedrooms upstairs, my old room with the mahogany twin beds, another across the hall where my sisters slept. Mom's clothes folded neatly in drawers, coats hung in closets, shoes in place on a shoe tree. Framed pictures, tupperware, dishes, pots and pans, bowls, baking equipment. Cellar with washing machine and dryer, metal storage shelving, upright freezer, dad's old Navy trunk, foodstuffs, things stored in boxes. A garage full of junk rounded out the picture.
Before the auction, I sometimes woke in the middle of the night and went downstairs. I'd walk around and look at my mother's possessions. I wondered if that old bedroom set gave her comfort. Did she look every night at the framed pictures of her children when they were kids? Did she have a favorite pair of shoes, coat, sweater, piece of jewelry? Did she look at her knick knacks and get pleasure or think that it was nice that her brother-in-law and his wife gave her the dining room furniture? Did she have a special pan or pot or candy dish? I broke down in tears when I looked at the ancient and uncomfortable chair she sat in while she read a book or looked outside. What did she feel as she watched her tiny part of the world pass by through the picture window?
The day of the auction broke cool and clear, a welcome relief from the heat and humidity that marked the summer of 2012. The auctioneers and their crew came early. They set up a tent in the driveway, arranged a table and podium for the auctioneer, hauled packed boxes out of the house, and began cooking hot dogs and sauerkraut in crockpots they set up in the kitchen. By the time the selling began, at 10:00, cars lined the street and a crowd of people milled around the yard and house inspecting the items soon to be sold. Hot dogs and sauerkraut sold briskly; a few folks seemed to have come just to eat. A couple of neighbors offered condolences, and some others asked if we were selling the house. When I told them that one of my two brothers and my two sisters were behaving badly in the wake of our mother's death, they were quick to volunteer their own horror stories. The consensus was that siblings would go to war over even a few dollars.
An auction is an emotionless affair. A box or an individual piece is brought to the auction block; the auctioneer gives a description; he sets an opening price; and the bidding begins. It was painful at first to watch goods obtained over a long lifetime be sold, especially because for nearly every item, the auctioneer kept dropping the price from the opening until someone finally made a bid. A Broyhill couch and chair we bought for my mother in 2002 from a store in town that cost about $1,200 sold for $10! The relentless matching of supply and demand was oblivious to what that couch and chair, that box of books, that clock meant to my mother.
To get away from the growing crowd milling about the house and from the awful smell of the sauerkraut, we went outside and began to talk to some of the people in the yard. Most were auction regulars. Many were looking to buy something cheap and sell it for a higher price, at a yard sale, on ebay or craigslist, at another auction. A woman told us that she needed the money she made by doing this to pay her bills. She hadn't had much luck lately and seemed depressed. One of the auctioneers' employees said that he built a storage shed on his land every year and filled it with what he bought at auctions. During one two-year spell of hard times, his family survived by selling items in his sheds. He even bought a large tank of gasoline at a farm auction to keep his truck and car running; he paid about 50 cents a gallon! Another worker was hoping to buy my mother's bedroom set for her daughter, who was on duty in Afghanistan. We noticed that the Broyhill couch and chair plus a few other commodities were hauled onto the truck the auctioneers brought, which meant that they had been both auctioneer and buyer. This area of Western Pennsylvania is particularly depressed economically, and too many residents seem to be living hand to mouth. Old goods are sold and resold and sold again, in a chain that ends only when the goods are too tattered and worn to be marketable.
My mother was always doing chores: vacuuming, dusting, cooking, doing laundry, ironing, mowing the grass, shoveling snow, burning her trash, doing spring cleaning, washing windows. She took pride in her house and in her things. She worried that there was not enough time to get everything done, especially now that she was so much older and tired. As we surveyed the house after the auctioneers had packed and gone, we thought that perhaps she had worried too much. She should have worried less and enjoyed life more. Lived in the moment. For what was left after a lifetime of chores? Discolored carpets, empty rooms, dirt where the refrigerator and stove had been, garage and cellar that had seen better days, every single household item severed from any social connection and sold to the highest bidder. Soon the house itself will belong to another. Everything in the end reduced to the cash nexus.
Maybe some day there won't be any property. No real estate, no houses and their contents. No markets. No reduction of human beings to the least common denominator of money. Things will be made for use and enjoyment alone. And no one will have to go to an auction in the hopes of buying cheap and selling dear just to live, because living adequately will be a human right. I hope so. It won't be in my lifetime. That is for certain. So for me, I hope I die without a single possession. Just enough money so that Karen can live without fear until she too dies, and our ashes become one.